Panglao Oasis is located at Levi B. Mariano Ave, Taguig, Metro Manila.
Panglao Oasis is located in Ususan, Taguig City in Metro Manila. Aside from the resort-inspired aesthetics and amenities available in this condominium, its central location is one of the reasons why investors are keeping their eye on this property. The location of the condominium is at one of the major avenues of Taguig City. It is only a few meters away from the C5 road, and within close distance from the major business and commercial districts.
As mentioned above, Panglao Oasis is located close to major central business districts such as the Bonifacio Global City, Makati Central Business District, and Ortigas Center. If you are going to these business districts for work or business purposes, the Panglao Oasis is the ideal address because you can access it conveniently from your work place.
If you are into shopping, you will be spoiled for options at Taguig. Panglao Oasis offers you easy access to major shopping centers and malls in the area. Among the options available for you to choose from are Puregold, Vista Mall, SM Aura, Glorietta, Greenbelt, and Market! Market! It is also located close to other major landmarks such as the Philippine Navy Golf Course. Meanwhile, the Ninoy Aquino International Airport is only about 10 kilometers away. Hence, this is very convenient for unit owners at Panglao Oasis who are frequent travelers. The travel time from Taguig to the airport is approximately 16 minutes.
If you are looking for good schools in the area, you won't be disappointed. Families who are moving in to Panglao Oasis will have plenty of good schools to choose from. Some of the schools to add to your list for consideration are Southville Woodland School and Maria Montessori Holy Christian School. Meanwhile, there are also several places of worship nearby. For your health care and emergency needs, there are St. Luke's Medical Center, Medical Center Taguig, or St. Ignatius of Loyola Parish.
The city of Taguig is one of the major cities in Metro Manila. It is highly urbanized and is known for its commercial and industrial boom over the recent years. It was once a thriving fishing community but it has undergone major transformation since. It is currently thriving with a lot of mid- and high-rise buildings. However, many other future developments are still ongoing or being planned in the city of Taguig. Panglao Oasis and the residential community around it is just one of those developments. Another notable development is a 70-hectare business and lifestyle district that is a project of Ayala Land. Another reason for the convenience of choosing Taguig as your address is the fact that it provides easy access to other cities in Metro Manila such as Muntinlupa, Makati, Pateros, Pasig, and Pasay.
Due to its accessibility, Panglao Oasis grants its residents with the ability to have easy access to major leisure, shopping and entertainment options. At the same time, the condominium is also accessible if you need to getaway from the chaos of the city without the need to travel far.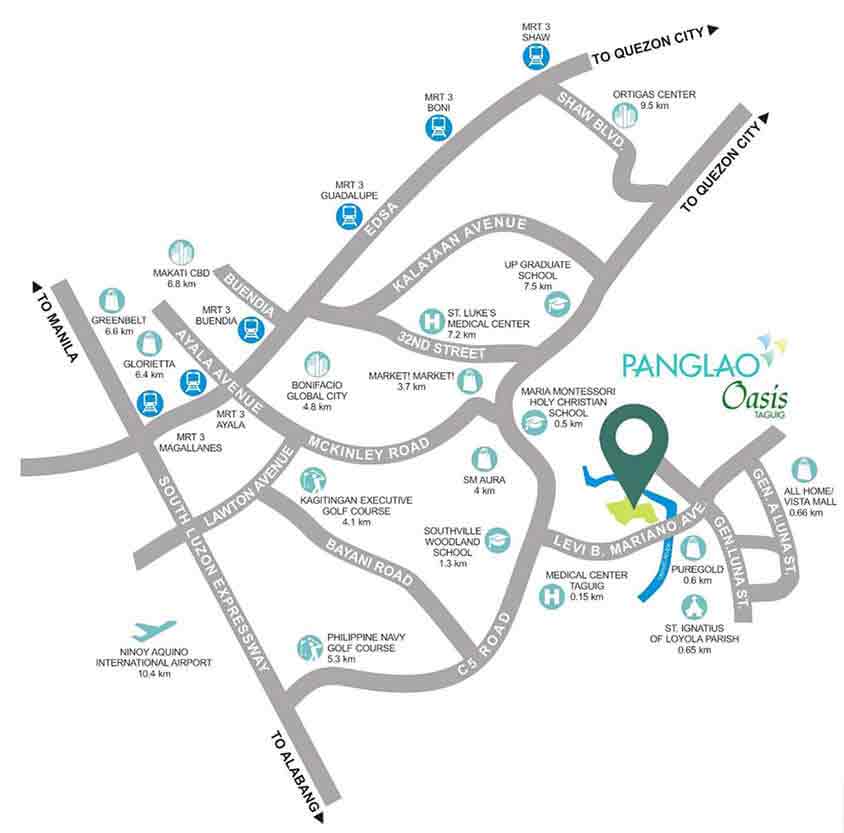 Having the lowest real estate tax rates among Metro Manila's cities, Taguig City is also hosting to several residential developments proliferating in the metro. Most condos in Taguig City are subject to one of the lowest tax rates in the region, making living in the city one of the most affordable and the most profitable. Just like the Filinvest's Panglao Oasis Taguig City, where residential suites are priced lower than the competition, but its quality and immense amenities are worth more than what you are paying pay for. Furthermore, this condo in Taguig City has one of Filinvest Land's most iconic designs and diverse features not readily found in the city.
The City of Taguig is really worth investing, it could trigger an avalanche of opportunities for careers, business, academic excellence, and so much more chances. And all could be had in a single location, where everything is near and reachable with just one click of a finger.